Just as our food takes the template set by the roadside diner and runs wild with it, our bedrooms do the same with the classic overnight roadside halt. Cosy, warmly-decorated and filled with comfy, unpretentious furniture, each room also features a few choice automotive twists and artwork from the scores of talented artists, sculptors and photographers that work alongside us. Whether it's for a short one-night stopover, a base to explore all that this beautiful part of the world offers, or simply the opportunity to sit back and absorb the comings and goings of our always-evolving Yard, the Hill bedrooms are a perfect haven. For booking enquiries, call us or get in touch at stay@caffeineandmachine.com.
Room 1
Sleeps up to: 3
Pole position. Room 1 comes equipped with a deliciously comfy super king bed or two singles, with a sofa bed, revealing a variety of occupation options – solo, up to three adults or a couple of grown-ups and a pair of small-ish children, as long as they get on. There's a view of the front yard, so you can keep an eye on what's going on outside without coming out from under the redoubt of the duvet. If you build a bedroom fort, we won't judge.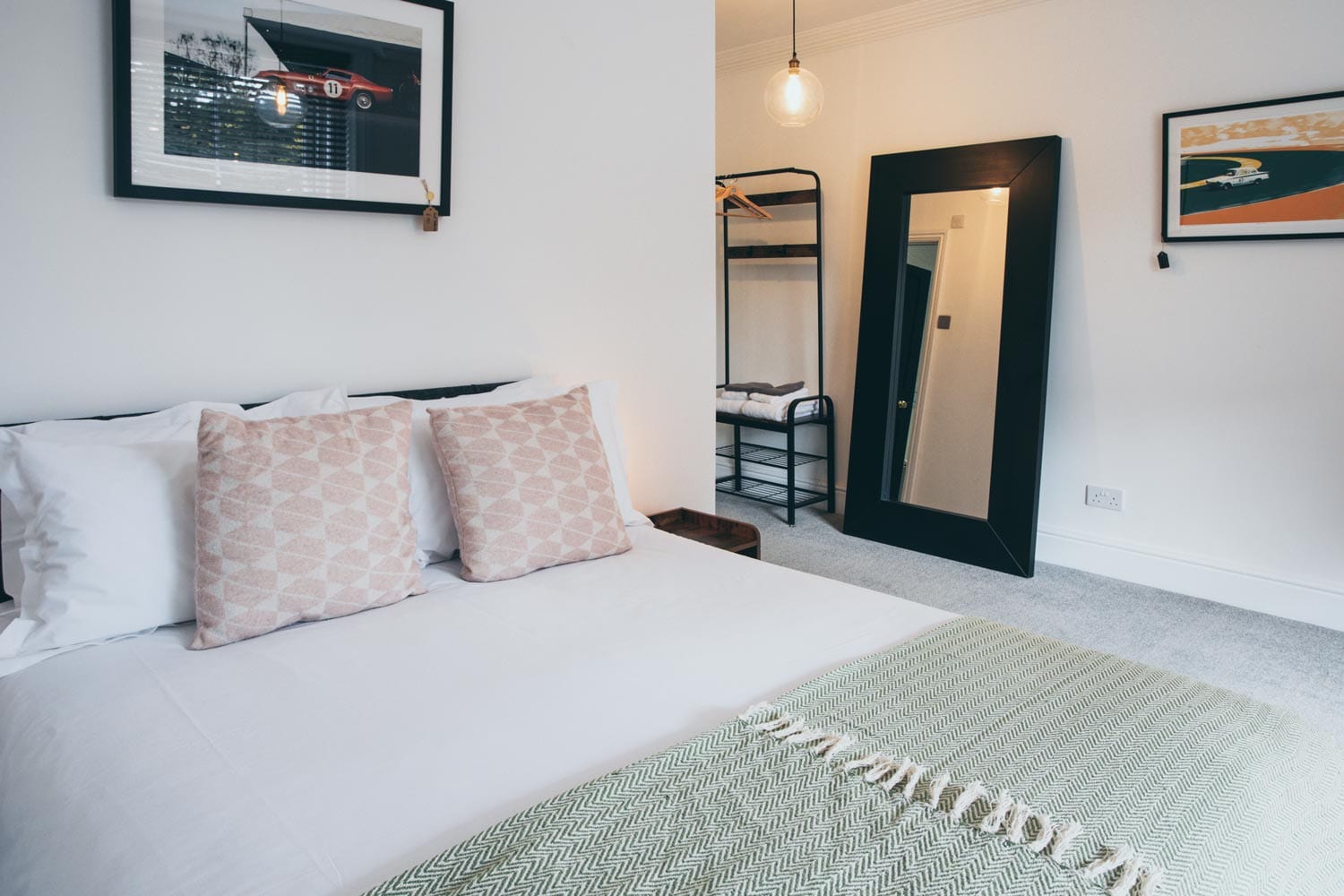 Room 3
Sleeps up to: 3
We like Room 3. Mainly because it comes with a Superking bed or two singles, and a sofa bed for unexpected/expected guests or favourite children. So you get can up to three full-sized adults in there, or a couple of grown-ups and a pair of kids. Or you can luxuriate in the space on your own, and leave your socks all over the floor. There's a generous view of the front yard, too – so you can spy on new arrivals from above. There's no law against it. We think.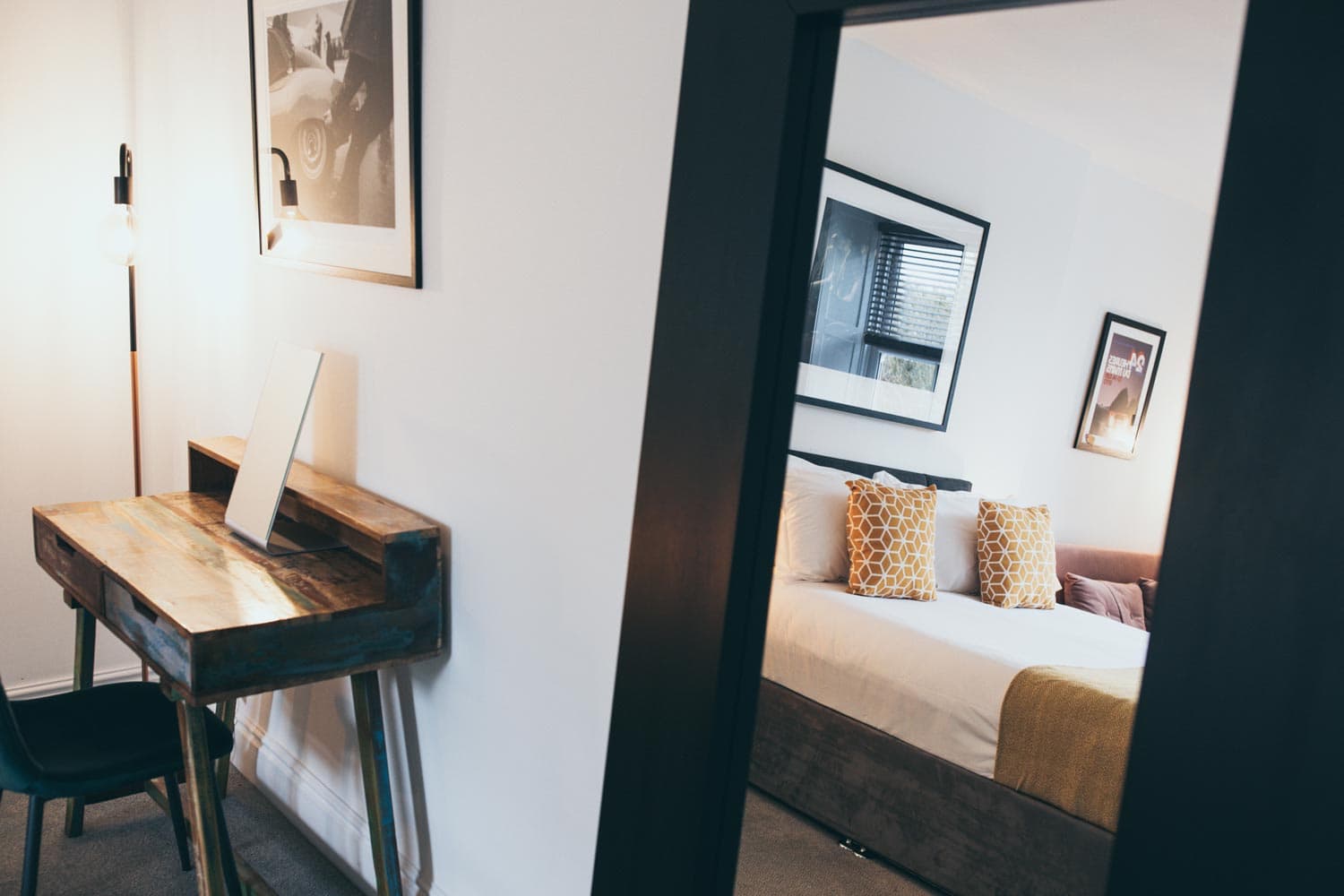 Room 4
Sleeps up to: 4
The quattro room – as it's not commonly called – is a practical one: a double bed and a pair of twin singles, meaning you can comfortably accommodate four full-sized people or a couple of full-size and a pair of fun-sized kids. Or any combination. There's a good view of the front yard from the big window, so you can keep an eye on our favourite tree – it's the big cedar out front. Or you can just look at some machinery – whichever you prefer.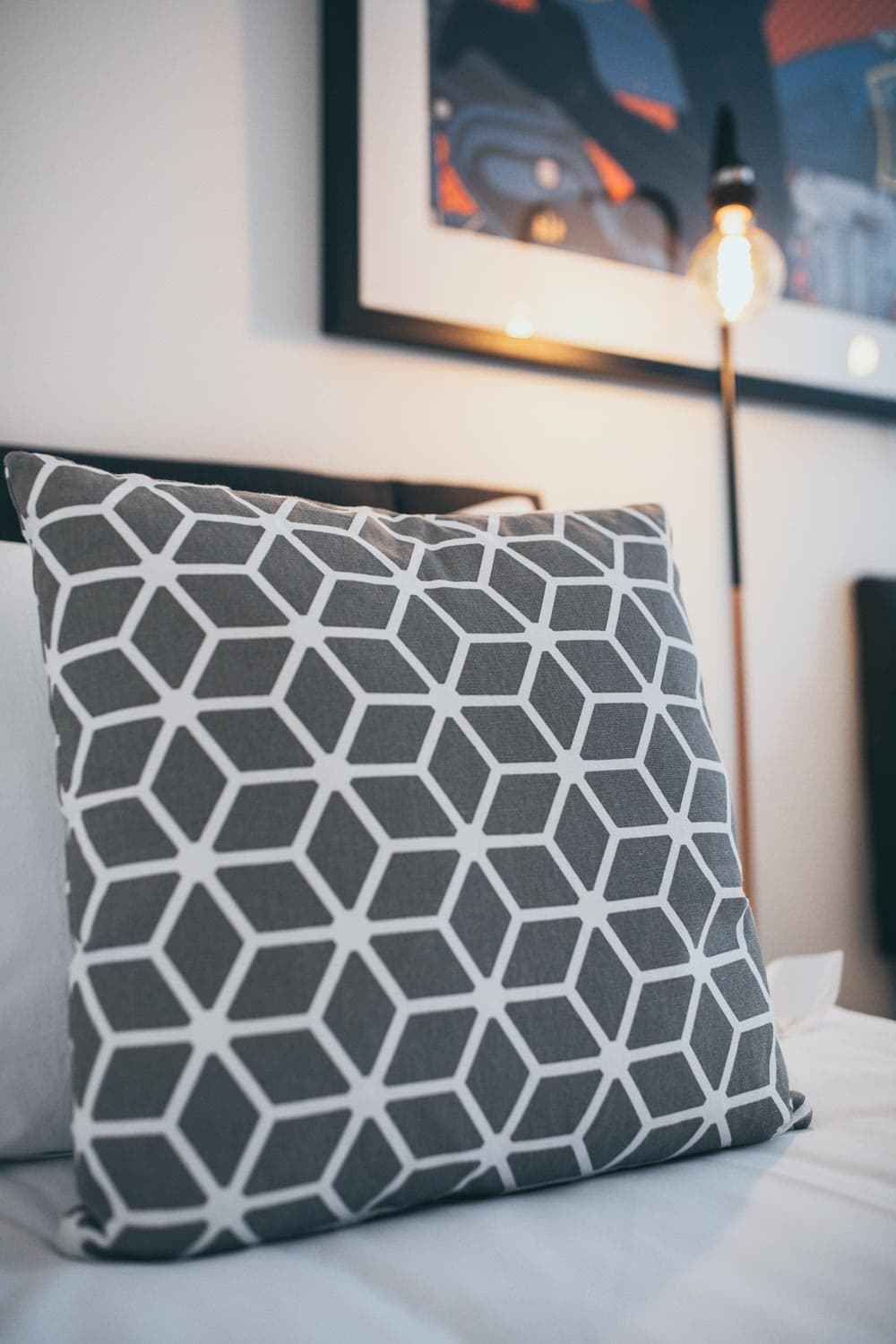 Room 5
Sleeps up to: 2
Room 5's a cosy one for up to two adults, tucked up at the back of C&M with a partial view of the rear yard – which is sometimes where you find the really special stuff… but only partially. This is a proper quiet little bolthole, perfect for hiding. There's a double bed that tries very hard to act like a sleepy cloud, and charismatic exposed beams. But they're exposed on purpose, so that's okay.
Room 6
Sleeps up to: 3
Light, bright and equipped with a double bed and flip-out sofa bed, Room 6 comfortably copes with two adults and two kids, or three adults if you prefer. It depends how big the adults are – if you're planning on bringing giants, then it's really not going to work. There's a nice view of the front yard from this one though, so you can stare at the top of people's heads and get plan views of cars and bikes without anyone knowing. You'll literally be looking down on people.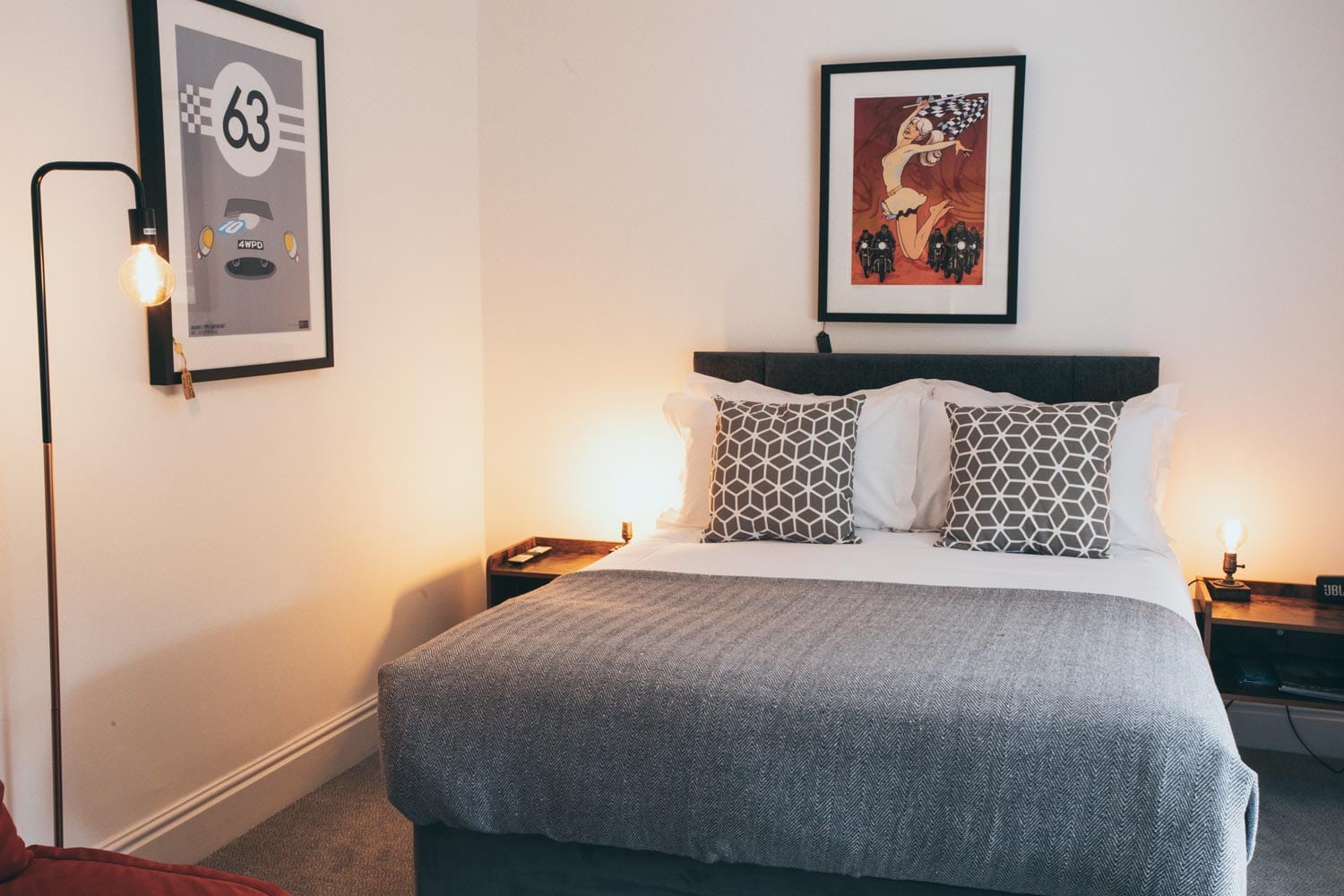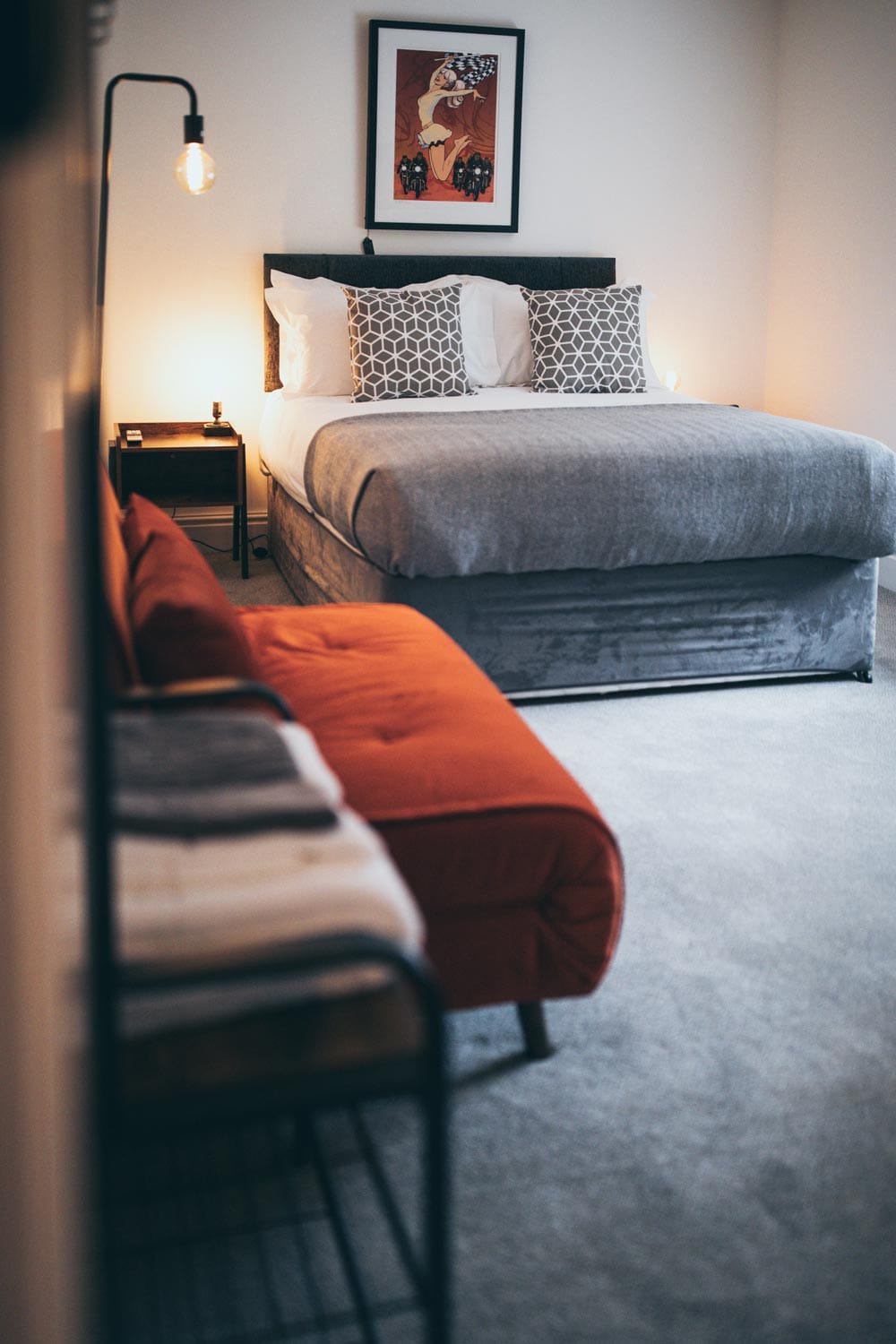 Room 7
Sleeps up to: 2
Well-proportioned, clean, and crisp, Seven comes with a floaty King bed and a small transforming sofa bed that would be suitable for a child under sixteen, or a small adult you weren't very keen on. Purely as a size thing – it's very comfortable. As with most of the rooms, there's also a cool view of the front yard – perfect for surveying the carpark. In most hotels, this would be a disadvantage, but you're at Caffeine & Machine.
Room 8
Sleeps up to: 3
A king-sized bed adorns Room 8, along with a sofa bed suitable for a couple of kids. So you can cope with three adults in some sort of modern throuple arrangement, or two grown-ups and a couple of kids. Or just a big room for one. There's a decent view of the front yard from the window as well, so you can sit in your king bed and pretend to be an actual king. Or queen. You could even wear some sort of homemade crown, it's your room for the night, do what you want (within reason – no throwing the tv out of the window or anything).
Interested in staying with us at the Hill?
Check availability, and book your stay
If you'd like to book a bedroom at the Hill, you'll need to make your reservation through our booking partner.